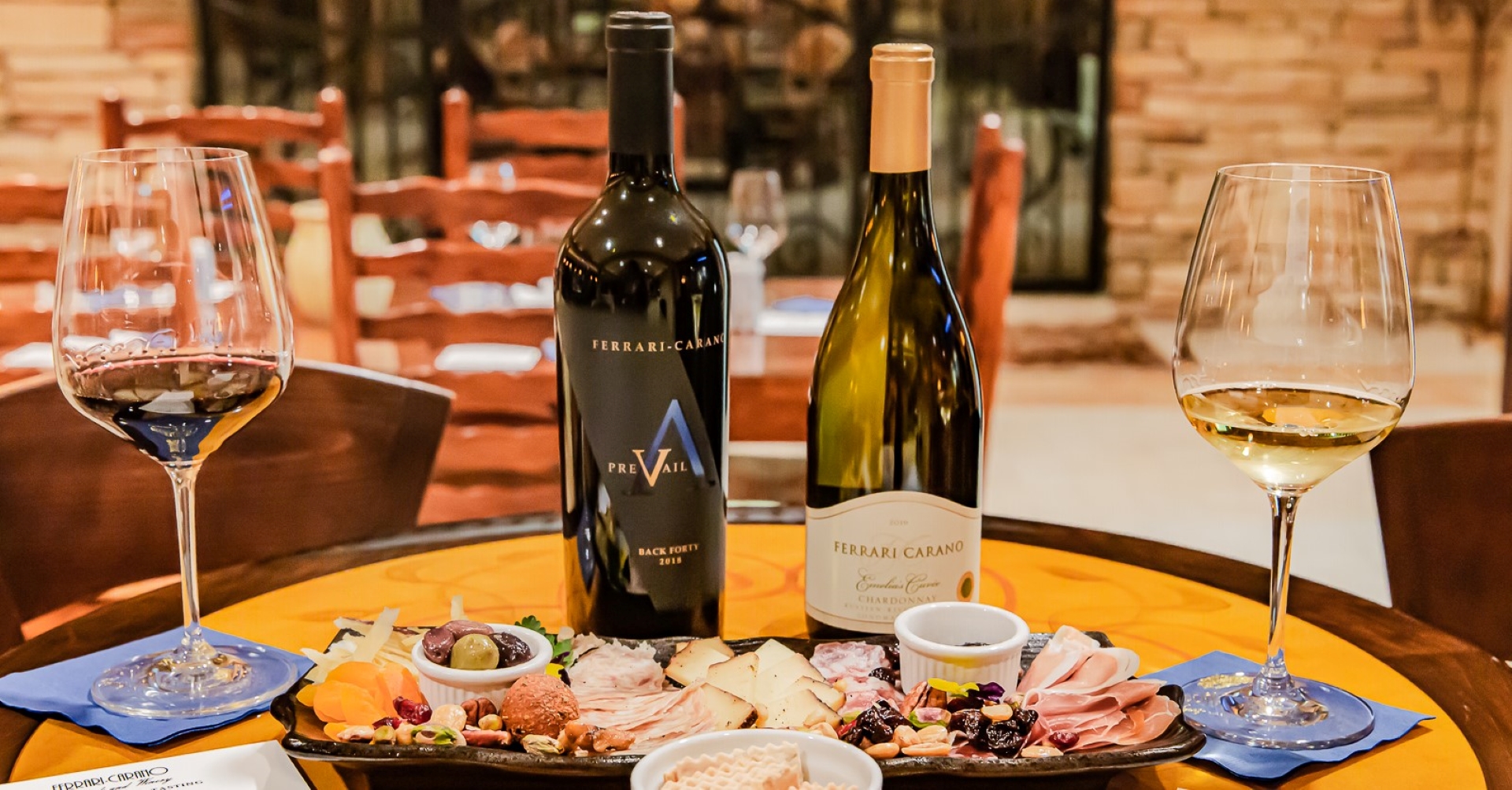 Reserve Wine Tasting
For the passionate wine enthusiast, we offer an intimate tasting of 5 vineyard-designate wines in the Enoteca ("wine library" in Italian) located in the underground cellar, or in the beautifully appointed Salon of Villa Fiore in picturesque Dry Creek Valley — the perfect place to relax and enjoy Ferrari-Carano Reserve Wines while an Estate Ambassador leads a discussion on vineyards and winemaking, focusing on the role each plays in the wine in your glass.
Offered daily, reserve below, or walk-ins welcome as space allows.
$60 per person. $45 for wine club members.
Wine country luxury – a blend of elegance and comfort.
We welcome you to enjoy 5 thoughtfully selected reserve wines while you relax in the Enoteca or in the Villa Salon overlooking fountains, gardens, and vineyards.
Add on to your experience by choosing a charcuterie board or a chocolate bonbons plate below.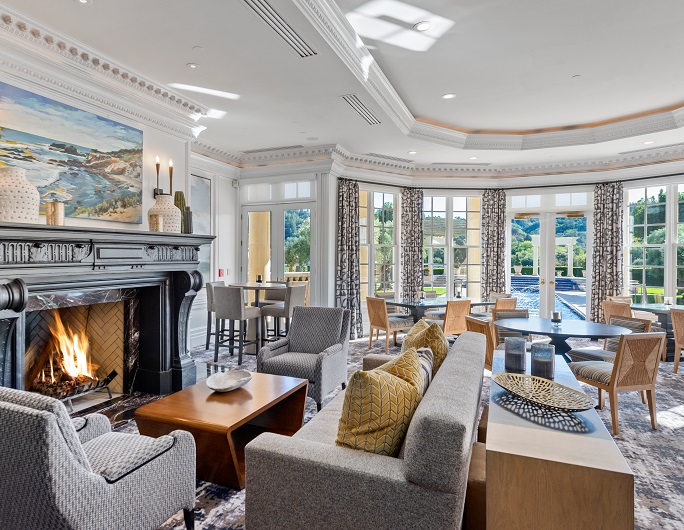 Add-Ons
---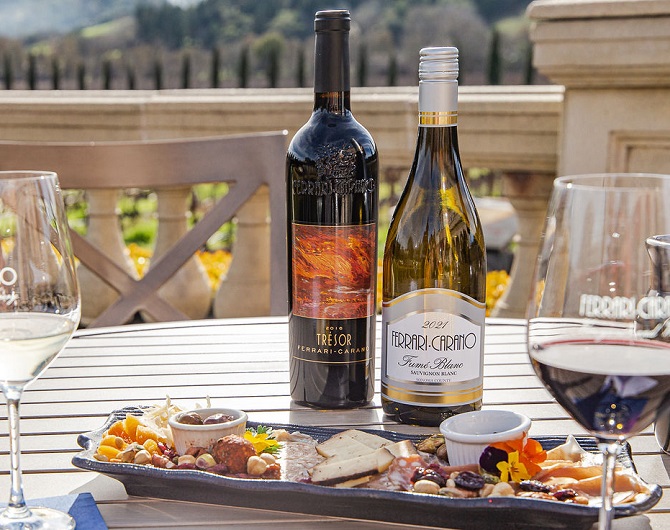 Charcuterie Boards
Elevate your experience with a hand-crafted cheese and salumi board featuring local artisans and prepared especially for you by Chef Alec Graham.
Choose from salumi only, cheese only, or a little of both. Our boards feature a selection of 5 artisan cheeses, 5 Journeyman meats, salumi, and prosciutto, Rustik crackers, Gipson's Golden Blackberry Honey, assorted nuts, cornichons, and caper berries.
– Cheese & Salumi board: $40, $32 wine club members (serves 2)
– Cheese only board: $35, $28 wine club members (serves 2)
– Salumi only board: $45, $36 wine club members (serves 2)
Requires 48-hour advance reservation. Reserve upon checkout.
Chocolate Bonbons
Add on a plate of delicious Fleur Sauvage Chocolate Bonbons, handcrafted, artisanal creations from local chocolatier Chef Robert "Buttercup" Nieto. These bonbons are a perfect sweet addition to our wines.
– Offered for $30, $25 wine club members
Requires 48-hour advance reservation. Reserve upon checkout.
Lux "Chips & Dip" Caviar Plate
NEW! Indulge in the ultimate "Chips & Dip" add-on when you choose this new, luxurious offering that puts an upscale, Italian FC twist on a classic pairing – caviar and wine.
Enjoy a 1-ounce tin of premium Sterling Caviar with sauce Gribiche (aka 'dip') and house made Focaccia (aka 'chips')…caviar with wine Italian style a la FC!
– Offered for $95, $76 wine club members
(serves 2)
Requires 48-hour advance reservation. Reserve upon checkout.
The Fine Print
Advance reservations and prepayment are required.
Reservations are refundable up to 48 hours prior to visit, and non-refundable within 48 hours of visit.
If you are a group of 7 or more people, please contact us directly for rates and availability, tastingroom@fcwinery.com.
We regret that we are unable to accommodate any guests under 21 (including children/infants), pets or outside food at this time.
We continue to observe tasting room safety protocols, including social distancing and consistent and thorough sanitization.
Questions? Contact our tasting room, 707-433-6700, or email customerservice@ferrari-carano.com, and we will be happy to assist you.