Hectic Week? Ferrari-Carano Wine and Pizza Pairings Will Elevate Your Evening and Excite Your Taste Buds!
Classic Cheese
A classic for a reason, yet nobody seems to agree on who makes the 'best.' Whether you're a purist and prefer only mozzarella, or like to mix it up with a gooey multi-cheese blend, pour a glass of our 2018 Ferrari-Carano Sonoma County Merlot and kickback. It has just the right amount of backbone to accompany our forever-favorite pizza.
Pepperoni
Something about the way those crispy pepperoni edges curl in a scorching hot, wood-fired oven makes our mouths water. We're willing to bet yours does, too. Our Spirit of Italy wines intend to honor the estate's Italian roots, and we can't imagine sipping anything other than the elegant, Sangiovese-based 2018 Ferrari-Carano 'Siena' while enjoying a slice of sizzling-hot pepperoni pizza. Cave aging for 14 months before bottling allows for the wine's depth of flavor to shine, and notes of baked cherry pie, vanilla bean, cola, and spice truly sing when sipped alongside a crispy slice.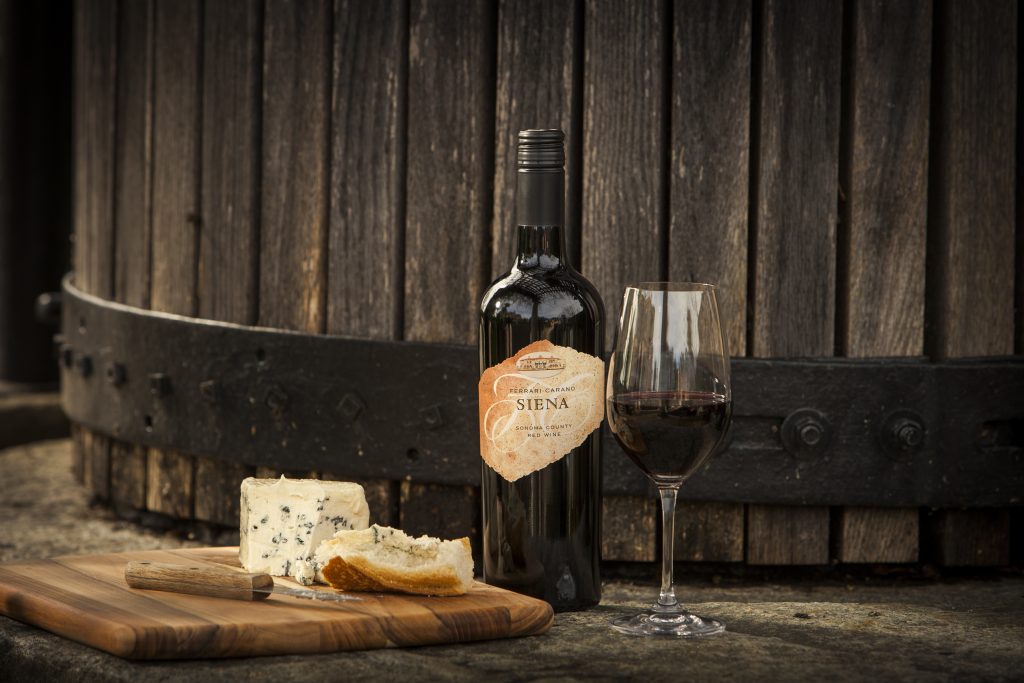 Margherita
The next time you are in need of a quick weeknight dinner, consider putting together a simple and delicious Margherita pizza and pairing it with our soon-to-be-released 2021 Dry Sangiovese Rosé. The lively acidity in our rosé stands up against the zesty tomato sauce, while the flavors of watermelon, cranberries, fresh-picked strawberries, and pomegranate complement the delicate aromatics of the basil without overwhelming its fragrance. Harvested in the morning before the heat of the day takes over, the Sangiovese grapes in our rosé maintain excellent verve and make an exciting partner with Pizza Margherita. Allow your first bite to transport you to an Italian terrace.
Meat-Lovers
Lifting the lid of a meat-lovers pizza box, we are met with an enticing waft of spices that invites us to reach for the 2017 Ferrari-Carano Cabernet Sauvignon hailing from Sonoma County. With a 91-point rating from Wine & Spirits Magazine, a full-body, and lingering mouthfeel, this easy-sipper is a match made in heaven with hearty meat-lovers pizza. Try chopping up last night's meatballs and sprinkling on top of your favorite dough/sauce/cheese combination for an at-home version. We recommend shaving strips of salty pecorino-romano onto your homemade pie for an artisanal feel.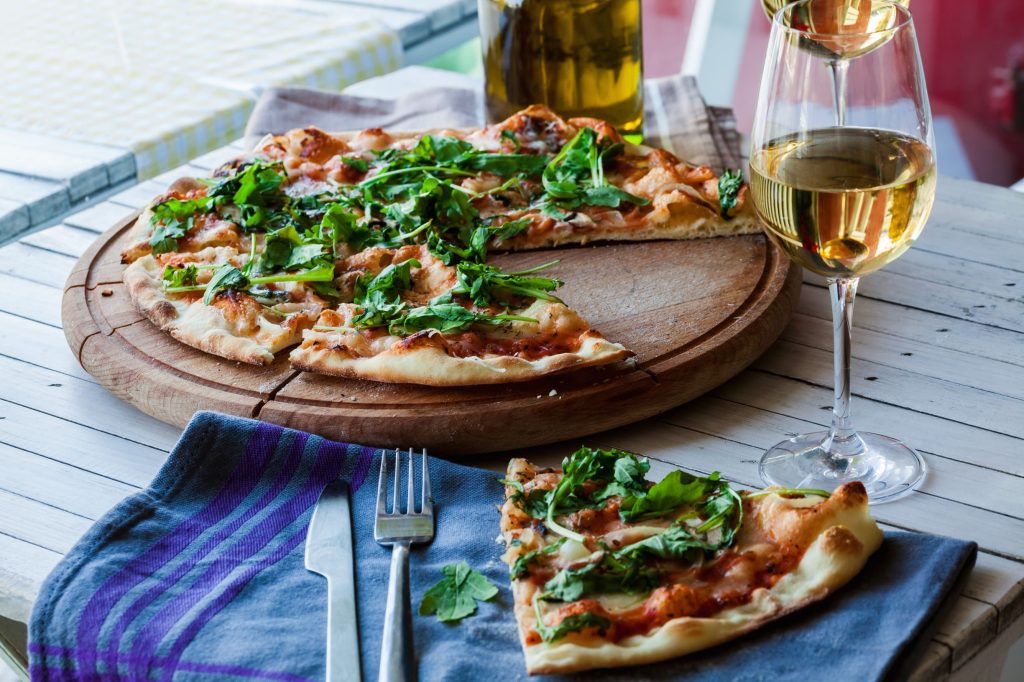 Looking for a way to make use of your vegetable leftovers from the week? Veggie-Lovers pizza is a fun option for a "kitchen sink" style meal, and a great way to pack a flavorful punch. If your veggie mix seems to have competing seasonings, forgo a tomato sauce base for a light drizzle of olive oil, cornmeal, and coarse salt. With minerality to complement a wide variety of vegetables, the 2020 Ferrari-Carano Fumé Blanc is fresh and partners perfectly with your seasonal pizza, even holding up to spicy seasonings. For a health boost and an impressively easy way to enhance visual appeal, place a lofty pile of lightly-dressed greens on the whole dish and top with a few grinds of white pepper.
White Pizza
Pizza Bianca, or white pizza as it is more commonly known in the United States, originated in Rome and typically consists of a thin crust, quality olive oil, garlic, and cheese or a cheese sauce. We prefer a hybrid style, stirring herbs, garlic, and cheese into an uncomplicated béchamel sauce and spreading a thin layer onto dough rolled equally as thin. Sprinkle with Parmigiano-Reggiano and a dollop of ricotta cheese before baking to a golden brown, or opt for
a special occasion feel by ordering a decadent mushroom and truffle oil version from Pizzando. Curious about what bottle to open for dinner? The creamy mouthfeel of our 2019 Ferrari-Carano 'Dominique' Chardonnay perfectly complements the soft ricotta, and our juicy 2018 Ferrari-Carano Anderson Valley Pinot Noir was practically made to partner with savory herbs. Try both to make pizza night a wine-tasting night, too!