It's about attention to detail.
---
Two winemaking locations, two passionate winemaking teams, twice the attention to detail.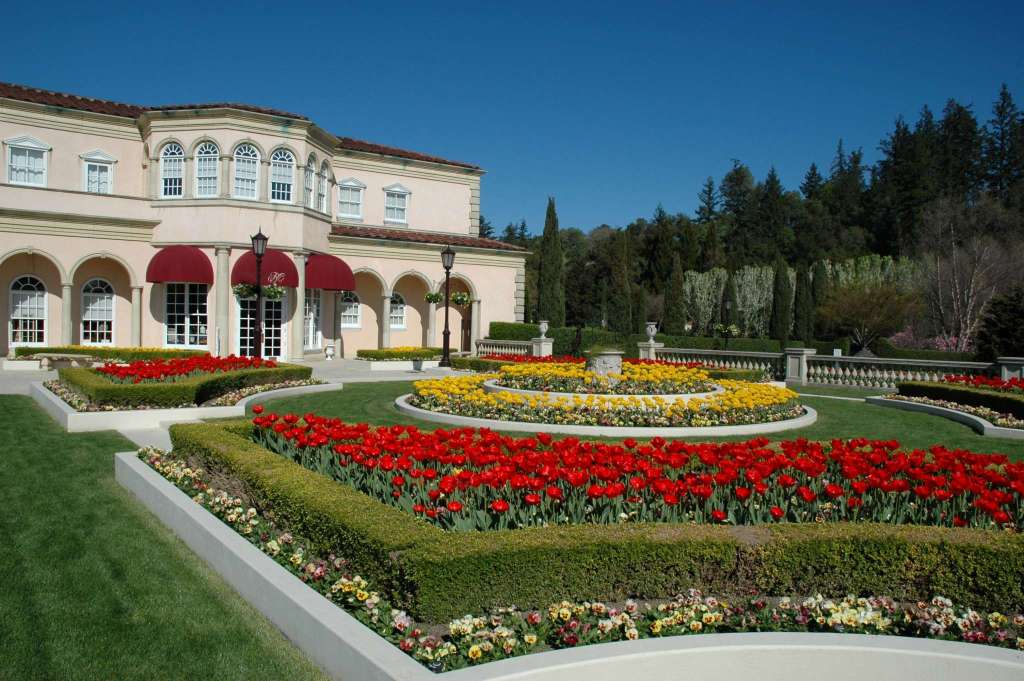 THE ESTATE WINERY
Located in Dry Creek Valley and home to Ferrari-Carano's Villa Fiore Wine Shop & Tasting Room, the Estate Winery was built in 1981 and focuses on producing Ferrari-Carano's stellar white wines. At Ferrari-Carano, we harvest our grapes at night, when temperatures are the coolest, giving us crisp and intense fruit flavors. From the moment the grapes enter the winery, our objective is to interpret the individual characteristics of each vineyard block, based on the growing techniques, soil, clonal differences and flavor – a term for which in France is "Vigneron," or "Winemaker," in English.
At our Estate Winery, we have a multitude of tools to support this goal:
A whole cluster fruit press is utilized to gently provide intense flavorful berry extraction.
Stainless steel juice-settling tanks allow grape solids to settle naturally without the roughness of centrifuge, which can remove flavorful grape solids.
Five barrel cellars, including a magnificent French underground cellar, for the fermentation and aging of our Chardonnays are the ideal environment for our wines to develop into lush, rich wines with complex nuances.
Research and development is ongoing at Ferrari-Carano. A separate experimental cellar and two labs enable our winemaking team to apply new procedures for creating superior wines.
All Ferrari-Carano wines are vinified and kept in separate lots until blending, a philosophy that began with Don and Rhonda's first bottle of wine and continues to this day. Our Fumé Blanc is crafted from seven of our estate vineyards in Dry Creek, Alexander and Russian River Valleys. Our Sonoma County Chardonnay is created from various estate vineyards and is a blend of numerous clones and selections. Our Reserve Chardonnay is primarily from our Napa Carneros ranch, and is complemented with fractions of our best lots from our Alexander Valley vineyards. The Russian River Valley Chardonnays are all single vineyard designates from premier locations in this appellation.

THE MOUNTAIN WINERY
Located on RockRise Mountain on the east side of Alexander Valley, high above Geyserville at an elevation of 1,000 feet, sits the Mountain Winery where Ferrari-Carano's red wines are made. The grapes are harvested at night in the age-old tradition; by hand. Each mountain vineyard block is tediously sampled on a daily basis to determine the optimum picking time. The winemaker's goal is to translate this mountain fruit of small berries with concentrated flavors into lush, complex, rich and flavorful wines.
This state-of-the-art winery production facility is unique with many tools to accomplish this goal:
In winery building one, a vertical elevator belt moves whole grape berries up into an articulating arm which moves 180 degrees over a semicircle of stainless steel and oak fermenting tanks, thereby dropping the whole berries directly into each tank. This unique grape delivery system was specifically designed for Ferrari-Carano to handle the fruit as gently as possible.
A new, additional production building complete with a crush pad and wine barrel storage, meets Cal Green requirements. This new winery building uses solid core insulation, snow white reflective roofs and is designed to allow for future solar panel installation.
The mountain winery is home to a total of three crush pads – large capacity, gravity flow and optical.
Adjacent to the winery buildings is a 77,000 square-foot underground cave for fermentation and barrel aging that provides the perfect environment for the wines to develop to their full potential. The cave utilizes 20hp to provide HVAC for 2 hours per day, and LED lights that reduce max kWh from 25 to 5. These energy savings are projected to pay for construction in 10 years.
Our red wines are produced from a variety of different clones and selections from Ferrari-Carano's many ranches, including two mountain ranches, RockRise and LookOut. These mountain grapes come from low-yielding, non-irrigated vines which add depth and character to the wines.