Pair this pizza paired with one of our Pinot Noirs.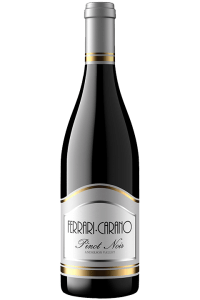 2018
Ferrari-Carano Pinot Noir
Anderson Valley
Shop now
What is nduja, you might ask? It's a spicy, spreadable sausage from Calabria in southern Italy that's been gaining favor here over recent years. Check specialty markets or online to purchase, or, if you'd rather, substitute soppressata or pepperoni.
Ingredients
For the Crust
1 1/4 cups bread flour, plus more for dusting
1 tsp. Kosher salt
1/2 tsp. instant yeast
1/2 cup plus 5 teaspoons water
1 tsp. olive oil, plus more for coating
To Top
3/4 cup pizza sauce
6 oz. shredded low moisture mozzarella
6 oz. Nduja (may substitute soppressata or pepperoni)
1/2 cup scallions, chopped
1/4 cup olives, pitted and sliced
Directions
FOR THE CRUST
Combine flour, salt, yeast, water and olive oil in a large bowl and mix until thoroughly combined. Cover bowl very tightly with plastic wrap, and let rest at room temperature for at least 8 hours, or overnight.
After dough has rested, transfer from bowl to a lightly floured work surface and roll into a tight ball. Place 2 tbsp. of olive oil in the bottom of a 10-inch cast iron pan and roll dough in oil to coat. Press down on dough to flatten, spreading oil to the edges of the pan. Cover with plastic wrap and let rest for 2 hours.
One hour into resting, position a rack in the middle of the oven and preheat to 550 degrees.
After two hours, use fingers to press dough to the edges of the pan, being sure to pop any large bubbles.
TO TOP
Top pizza with sauce, cheese, pieces of nduja, scallions and olives.
Transfer to oven and bake for 12-15 minutes, until toppings are golden brown. Remove from oven and transfer to a cutting board, slice and enjoy with a glass of F-C Pinot Noir!