Who says candy is just for kids? Even if you're not planning to sport a costume this year, these Halloween candy wine pairing suggestions will dress up your October festivities with an adult spin. Trust us—they're spookily good!
2020 Ferrari-Carano Fumé Blanc & Skittles, Starburst or Nerds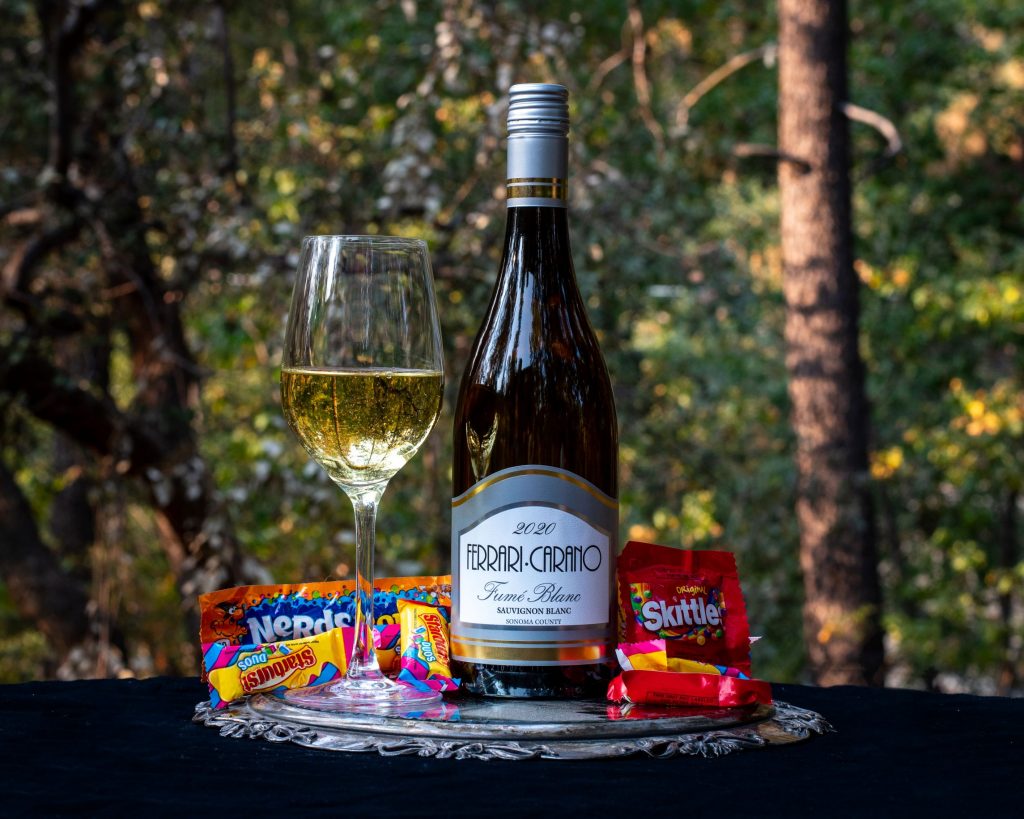 If you love fruity candy like Skittles, Starburst or Nerds, our Fumé Blanc will help you "taste the rainbow." Some of these candies can be a bit overly sweet, but the green acidic notes and crisp freshness of the Fumé Blanc balances those flavors and cuts the sugar left on the palate. The bright acidity and fruit forward notes of citrus and melon match the candy's tart punch, while smoothing out the rough edges.
2019 Ferrari-Carano Chardonnay & Milk Duds, Caramel Twix or Green Apple Pop Rocks
We love the way caramel flavors accentuate the baked apple and vanilla notes in our Ferrari-Carano Chardonnay. Milk Duds or Caramel Twix are the ideal pairing, creating caramel apple magic in your mouth!
Another surprisingly fun pairing for this versatile wine is Green Apple Pop Rocks. The bright apple flavor literally explodes when you sip the Chardonnay, and the notes of buttercream and graham crackers emerge. It's a fun alchemical trick to turn Chardonnay into a sparkling experience.
2018 Ferrari-Carano Pinot Noir & Reese's Peanut Butter Cups
Imagine a peanut butter and jelly sandwich, with the juiciest fruit preserves and perfectly toasted peanuts. These are the flavors that come forward when the creamy peanut butter of a Reese's meets the vibrant fruit notes of Pinot Noir – cherry, dark currant, and juicy plum. While Pinot Noir pairs well with most chocolates, you'll find that Resse's is a perfect pairing for this beautifully balanced wine.
2017 Ferrari-Carano Cabernet Sauvignon & Snickers or Peanut M&M's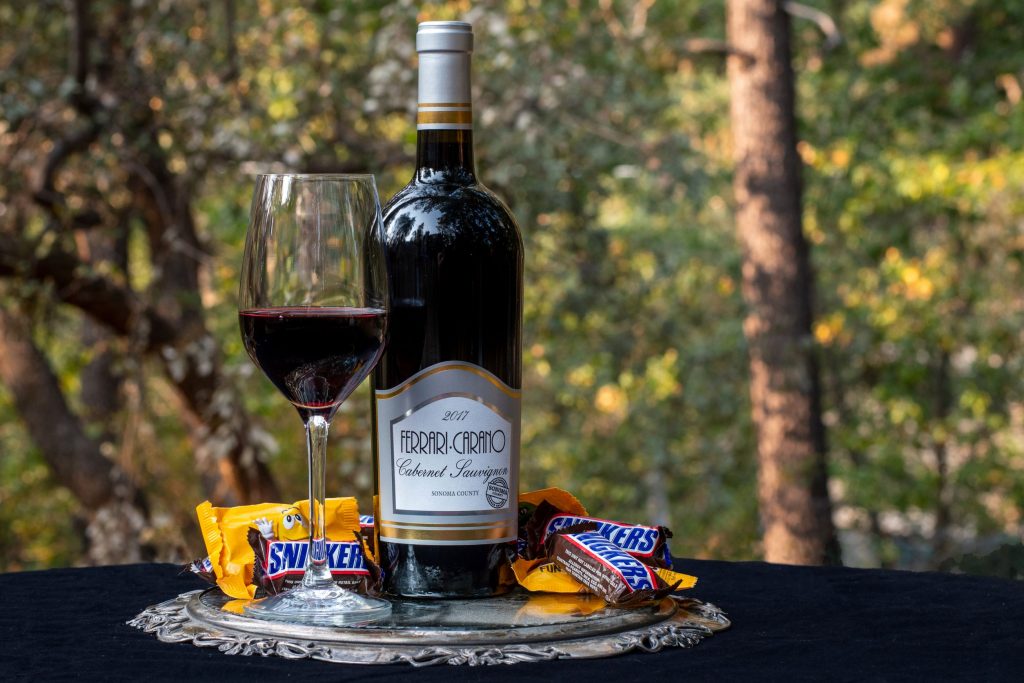 A complex wine like Cabernet Sauvignon calls for a complex candy like Snickers. Packed with peanuts, caramel, nougat, and chocolate, the candy's sweetness is offset and complemented by dark fruit aromas and flavors in the Cabernet Sauvignon. Another option is Peanut M&M's, where the peanuts act like a salty garnish on a decadent dessert.
2018 Ferrari-Carano Zinfandel & Kit Kats or Hershey's Bar
The sweet milk chocolate of Kit Kats, Hershey's Bar or Kisses pair exceptionally well with Zinfandel since the chocolate mellows the tannins in the wine, and the wine has enough fruit and structure to withstand the boldness of the chocolate. With concentrated flavors of raspberry preserves and açaí, this pairing tastes like chocolate covered berries with every sip.
We hope you take this guide as inspiration to dig deep into the candy bucket and explore pairings we may not have thought of! For more of our favorite ways to pair Ferrari-Carano wines, visit our Wine Pairing Guide here.