Always cook with a wine you would love to drink, they say. Read below for delicious recipes made with wine.
In the spirit of sipping wine while you cook, add a few splashes of your favorite Ferrari-Carano wine to your dish for an added dose of decadence! Take your dish up a level and wow your loved ones, or even just yourself (we won't tell) with these recipes developed by Estate Chef Tim Vallery.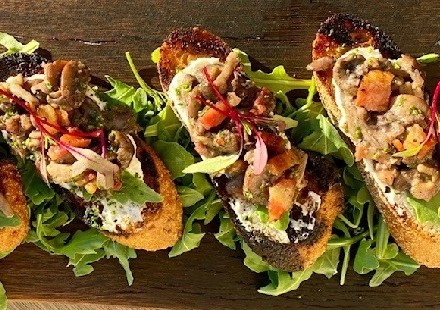 Mushroom Tartine: made with Ferrari–Carano Merlot or Pinot Noir
Ferrari-Carano Merlot, Sonoma County
Savory with comforting, resinous herbs and a chévre (goat cheese) mousse, this tartine comes together thanks to the help of the rich red wine, mushrooms, and bacon. With a base layer of sourdough, the mushrooms truly shine when they are enveloped in notes of plum, cherry, cedar, black peppercorn, and pomegranate from our silky Merlot. Don't forget to pour yourself a glass of Ferrari-Carano Merlot for the perfect pairing!
Roasted Tri-Tip with Red Wine Barbecue Sauce: made with your favorite Ferrari-Carano red wine
Ferrari-Carano Trésor, Sonoma County
Few dishes feel as celebratory as a roasted tri-tip. Chef Tim Vallery's spin on this melt-in-your-mouth classic includes an elevated barbecue sauce made with your favorite Ferrari-Carano red wine. We happen to think that a bottle of Ferrari-Carano Trésor is perfect for this dish. Meaning "treasure" in French, this blend is inspired by a timeless Bordeaux blend of Merlot, Cabernet Sauvignon, and a few other red varieties. Notes of caramel, cola, rose hips, cassis, and fresh leather brighten this elegant barbecue sauce and stand up to the heartier flavors of the juicy tri tip. In your glass, the balanced acidity cleanses the juicy rendered fat of the roast, making it an excellent pairing for your next gathering.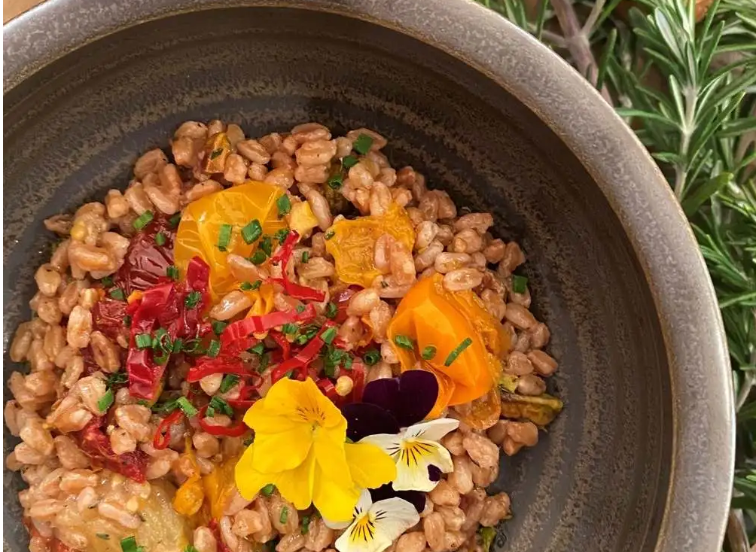 Farro, Tomato, and Mushroom Salad with Red Wine Vinaigrette: made with Ferrari-Carano
Cabernet Sauvignon
For a meal option to delight your palate year-round, try Chef Tim's Farro Salad dressed with a Ferrari-Carano red wine vinaigrette. Cozy enough for winter and yet refreshing for spring and summertime meals, we love how the juicy acidity of the tomatoes plays with the fruit forward notes in our Ferrari-Carano red wines, especially our Cabernet Sauvignon. Awarded 91 points by Wine and Spirits, our Cabernet Sauvignon has notes of plum, black cherry, and sandalwood that round this dish out with fruit flavors and a subtle earthiness that present well in this dish and alongside it, too!
Ready to experiment more with incorporating your favorite Ferrari-Carano wines into your cooking? Check out our culinary philosophy here, plus recipes to get you started! For regular inspiration, be sure to follow us on social media!