It's always a great time to see the gardens at the winery
We're heralding the arrival of spring and soon to be summer! Did you know that our Dry Creek Valley winery is not only known for its incredible wines but also for its inspiring estate gardens? Our Head Gardener, Antonia Mata-Marquez, oversees landscaping at Ferrari-Carano and has a vision to create a sustainable garden that is welcoming to every guest that steps foot in it.
Meet Antonia Mata-Marquez
Antonia is a seasoned gardener and landscaper with a 30-year career in agriculture and nursery management. She joined the Ferrari-Carano family early this year and has since been caring for the estate's impressive five-acres of flowers and plants, including the famous tulips that bloom for two weeks every spring.
Something new Antonia has brought to Ferrari-Carano is the organic culinary garden boasting herbs, vegetables, fruits and edible flowers. Our chef will use this bounty for wine and food pairings and events. Our gardens are accessible to the public by appointment, so guests are allowed to walk through and enjoy the culinary garden as well as the estate gardens around the winery.
Discover our Gardens
The gardens surrounding Villa Fiore, Ferrari-Carano's Hospitality Wine Center, started as a labor of love in 1987 for winery founder and gardening enthusiast, Rhonda Carano. When guests come to the winery, they're transported to the Italian countryside with access to five acres of stunning gardens. With meandering paths, foot bridges, a burbling stream, fishponds and dazzling flora, guests are dazzled by the beauty of our estate gardens year-round.
Each spring, 10,000 tulips and daffodils take center stage, ushering in the warmer weather and sunshine of the new season. The tulips are so popular there's even a tulip hotline to call and check on the status of the bloom, (707) 433-5349.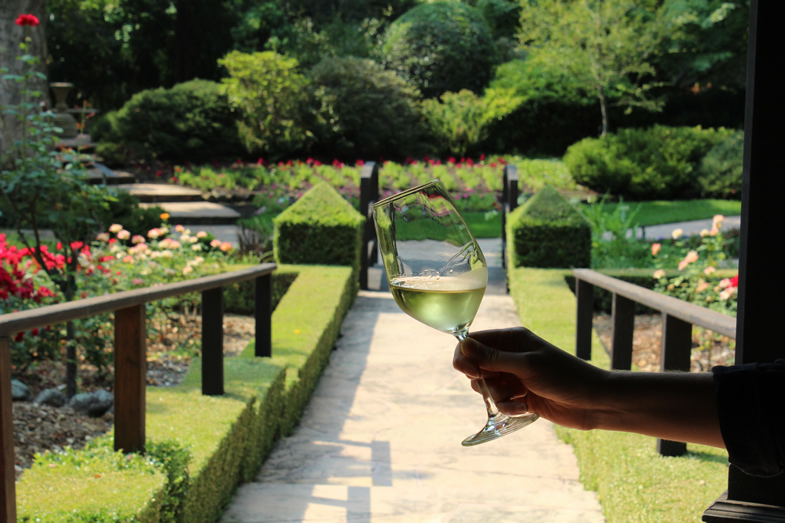 Italian/French parterre architecture with classic, geometric shapes form the backbone of this garden. The Enclosed Garden at the front of the estate winery has a more park-like feel; relaxed in design with an emphasis on color and texture, and featuring a mixture of trees, shrubs, perennials and annuals. Today, garden and wine lovers alike enjoy the beautiful setting and incredible floral colors on display.
Go Forth and Garden
Spring is the perfect time to start your own garden inspired by our grounds. Antonia assures guests that starting your own garden is easier than it seems. She recommends starting with a vegetable garden that your whole family can contribute to and benefit from. Your garden has a better chance of thriving if it's a team effort!
Plant vegetables you and the people in your household enjoy. Antonia says her garden currently consists of an array of chiles, as she enjoys making hot sauce and salsas. She loves Ferrari-Carano's Fumé Blanc and commented that the fruit-forward Sauvignon Blanc with notes of melon and mango is always a huge hit at her dinner parties. The Fumé Blanc is a perfect springtime white–we suggest pairing it with our recipe for Garden Greens with Ricotta Salata and Fennel.
We hope you'll book your appointment for wine tasting and enjoy all our gardens have to offer. Perhaps you'll be inspired to start your own garden at home! Don't forget to grab a bottle of wine to celebrate your new green thumb and all your hard work!