Wine gifts for everyone from your hard-to-shop-for boss and your picky best friend, too.
Rest easy, holiday shoppers — our Ferrari-Carano gift box sets are here to take the pressure off of gift-giving this season. As part of Foley Family Wines' renowned portfolio, Ferrari-Carano wines are included in a range of exquisite gift-box sets featuring some of our most beloved bottlings alongside our sister brands, Chalk Hill and Sebastiani. Available for online purchase via the Ferrari-Carano Holiday Gift Shop, these ready-for-gifting packages can be shipped straight to you or your gift recipient's door, no wrapping paper required.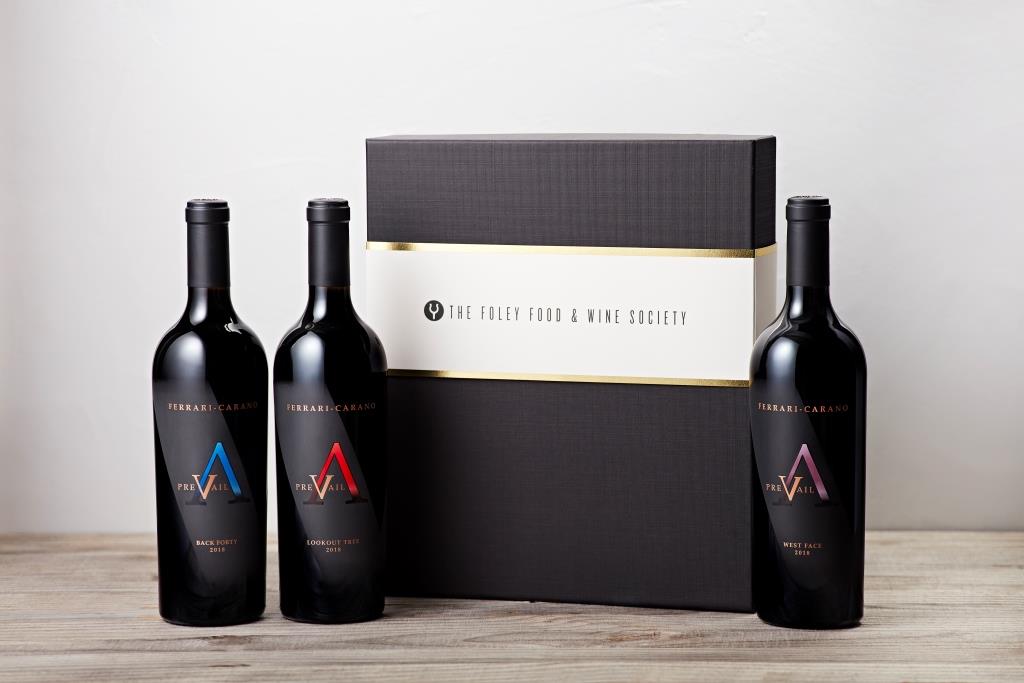 For Your Friend Who Prefers the Classics over Trends
Ferrari-Carano PreVail Trio Gift Set
Like a great pair of jeans, red lipstick and a good fountain pen, some staples never go out of style, and your sophisticated friend knows this. For the holidays this year, give your friend a present equally as timeless: the Ferrari-Carano PreVail Trio Gift Set. This incredible selection includes three elegant and hard-to-find bottles of Cabernet Sauvignon, each with its own grace and allure. PreVail 2018 Back Forty spends 21 months going through malolactic fermentation in nearly 75% new French oak barrels, resulting in a powerful wine with notes of blackberry, cassis
and dark chocolate, rounded out by a luxurious mouthfeel. Back Forty finds a handsome partnership in the 2018 inaugural vintage of the PreVail Lookout Tree, whose dried fruit, cherry and spice notes pair perfectly with a roasted rack of lamb. To accomplish the perfect trio, we inlude PreVail West Face Cabernet Sauvignon/Syrah blend, an incredible holiday wine with notes of blueberry, maple, caramel and bacon that simply exude the flavors of our favorite holiday treats. (Member $256; Regular $320 on the Ferrari-Carano Holiday Gift Shop)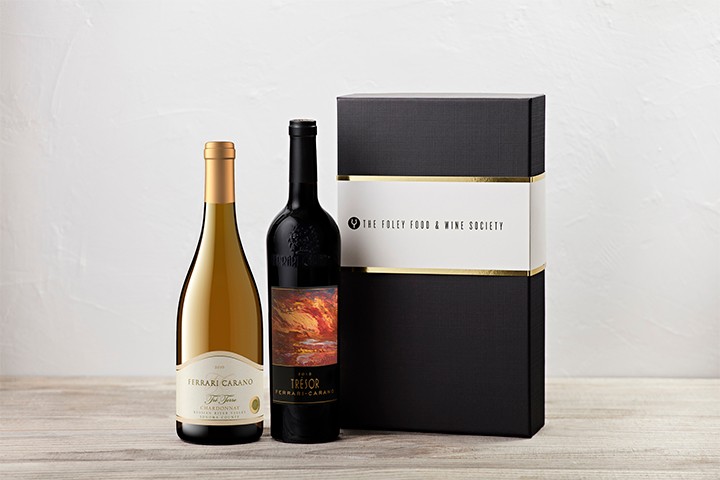 For the Power Duo
Ferrari-Carano Duo Gift Set
Think of the power duos you grew up with: peanut butter and jelly; Bonnie and Clyde; rock and roll. A peanut butter sandwich is delicious in its own right, but add jelly and suddenly it's a revelation. They're just, well, better together. We're willing to bet that you know a power couple in your life equally as iconic. Maybe this couple is your parents, your generous friends who are 'there' before you even ask for help, or perhaps your own partner who lifts you up every day. Power couples like these call for the Ferrari-Carano Duo Gift Set, outfitted with a bottle of
Ferrari-Carano 2019 Tré Terre Chardonnay and the Ferrari-Carano 2015 Trésor. A mouthwatering pour from the Russian River Valley, the Tré Terre Chardonnay is fresh and clean in style, with notes of Meyer lemon, apricot and maple spice. Pair it with a roast chicken rubbed with thyme or a mushroom risotto for other comforting duos. With a subtle hint of smokiness, the Trésor is a Bordeaux-style blend with notes of plum, pomegranate and cedar that wash over the palate. A duo this delicious deserves to be in the hands of one equally as great. (Member $79.20; Regular $99 on the Ferrari-Carano Holiday Gift Shop)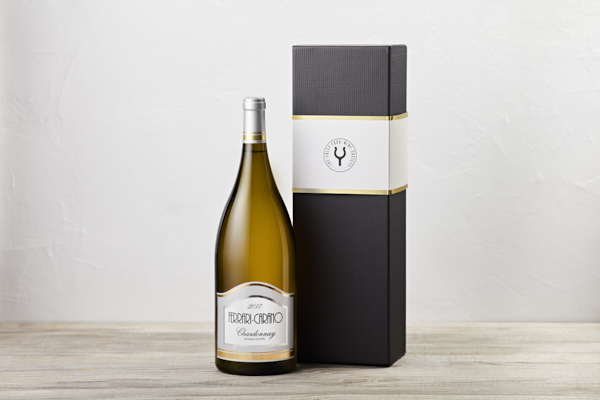 For your Boss Who is Truly a Boss
Ferrari-Carano 2017 Sonoma County Chardonnay, 1.5L
Does your boss seem to go above and beyond the call of duty not just for you and your team, but for everyone around them? A rare find indeed, your boss works hard, and if you're lucky enough to have one who exemplifies true leadership, consider gifting an indulgent Ferrari-Carano 2017 Chardonnay magnum to say "thank you" (if you're your own boss, then you definitely deserve this bottle). This magnum, hailing from Sonoma County, offers a fragrant
range of notes from white peach, orange blossom and citrus to graham cracker, lemon curd and spiced pear. Remember, magnums stay fresh longer, so perhaps consider sending along with rounds of rosemary crackers and a wheel of triple-crème or a bar of Castronovo White Chocolate Infused with Lemon and Lemon Salt to enjoy with our Chardonnay for days to come. (Member $52; Regular $65 on the Ferrari-Carano Holiday Gift Shop)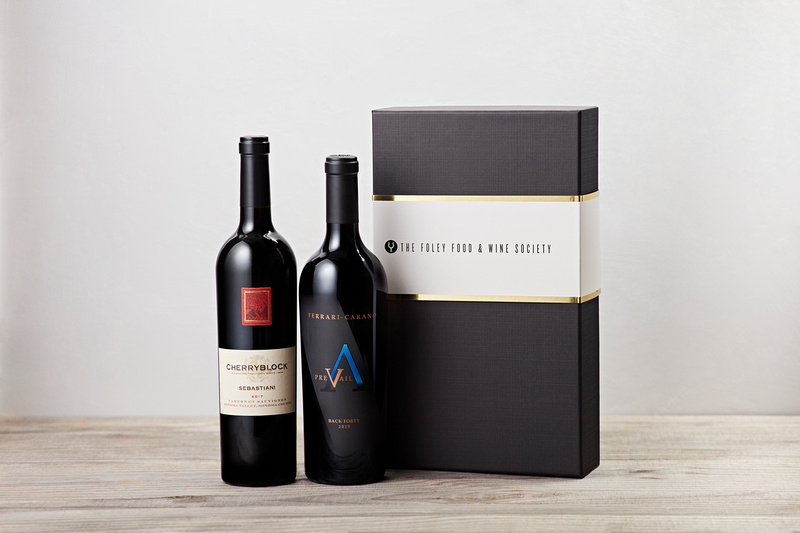 For the Wine-Enthusiast
Ferrari-Carano Cabernet Connoisseur Gift Set
Perhaps the most challenging person to buy for on your list is the wine enthusiast. They have likely received enough quirky holiday wine stoppers to last a lifetime, but trying to select a wine off of a store shelf can prove daunting and oftentimes ineffective. Instead, try the Foley Food & Wine Society Cabernet Connoisseur Gift Set, hand-selected by us for the most discerning enthusiasts; it includes a bottle each of the 2018 Sebastiani Cherryblock Cabernet Sauvignon and the Ferrari-Carano PreVail Back Forty to complement. Sebastiani Cherryblock Cabernet Sauvignon is an immediately-recognizable and first-class accompaniment to the Back Forty in our one-of-a-kind Cabernet Sauvignon gift set and is laden with complex flavors of blackberry, vanilla, baking spices and herbs. Grown on low-yielding vines on a 40-acre, 1,100-foot elevation vineyard at the backside of Ferrari-Carano's RockRise mountain, the other bottle in this set, Back Forty, brings tenacity and refinement in the same sip, drinking well now but still
idyllic for a collector's cellar. (Member $232; Regular $290 on the Ferrari-Carano Holiday Gift Shop)
Holiday shopping can be stressful, but that doesn't mean it has to be. Let Ferrari-Carano and Foley Family Wines take care of you and your holiday shopping (not to mention gift boxes and direct delivery for last-minute gifting!) so that you are free to savor the holidays. And if you happen to order a box for yourself, don't worry, your secret is safe with us.
For more Ferrari-Carano gift-giving inspiration, check out @Mikayla.winestyle, @bythestem, @smashlythegrape, and @winonoire on Instagram to see how they dug into the holidays with a Secret-Santa!