Our 2020 Fumé Blanc, Dry Rosé and Pinot Grigio are now available
Spring has sprung! This is our favorite time of year to head outdoors and bask in the gorgeous weather with some of our favorite Ferrari-Carano springtime sips. Whether you're relaxing on your patio with our iconic Fumé Blanc, prepping a refreshing salad to enjoy al fresco with our Pinot Grigio, or soaking up the sun all day with a glass (or two!) of our Dry Rosé, our new release spring wines offer a remarkable consistency of style and elegance for all occasions.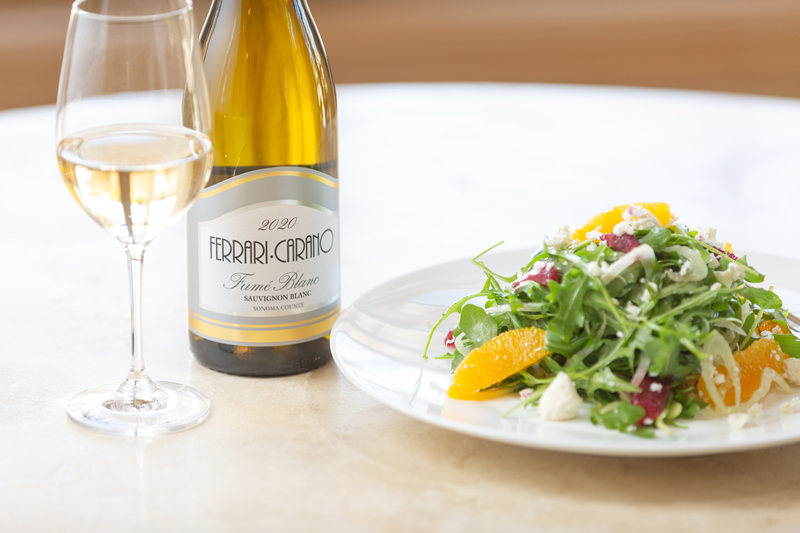 Fumé Blanc is one of the first wines produced by Ferrari-Carano 40 years ago and, to this day, it remains one of our most iconic and beloved wines. Comprised of Sauvignon Blanc grapes from Sonoma County, this is a light-bodied, dry wine with delicious aromas and flavors of grapefruit, peach, melon, lychee, lemongrass, lime zest, lemon chiffon and floral notes with a hint of minerality. We age our Fumé Blanc in a combination of stainless steel tanks and neutral French oak barrels – the stainless steel impart a bright acidity and crisp freshness that contrasts beautifully with the subtle oak character and delicate creaminess from the barrels.
Our favorite foods to pair with the Fumé Blanc are poultry and seafood. Wrap some prosciutto around thinly sliced melon, or pair alongside a light salad with citrus and beets to enjoy a taste of heaven. The lively flavors of the Fumé Blanc also pair well with spicy dishes, so it's the perfect wine to reach for the next time you're having Vietnamese, Thai, or Mexican food. We recommend serving it with homemade spring rolls full of fresh vegetables or chicken tacos topped with pico de gallo.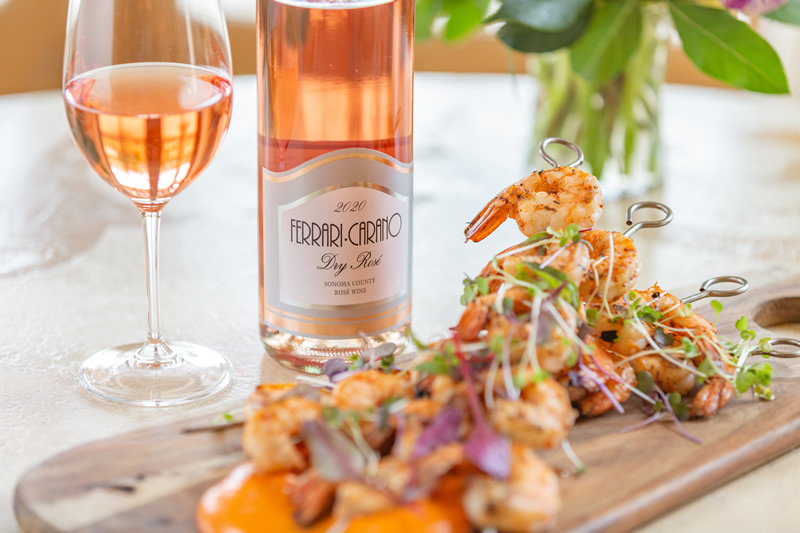 When they say "rosé every day," we're pretty sure this is the one they're talking about. Our Sangiovese-based Dry Rosé has delightful aromas and flavors of fresh-picked strawberries, watermelon, raspberry, and a touch of orange blossom. Aged in stainless steel tanks, the wine is refreshing with crisp acidity and an elegant finish. The grapes are primarily sourced from Alexander Valley, picked early in the morning when the weather is cool, and soaked on the skins just long enough to pick up the wine's lovely pink and salmon hues and to extract flavors from the skins.
This Dry Rosé is perfect for a picnic, a day at the beach, or really anywhere under the sun! Serve it chilled alongside a cheese plate overflowing with fresh chèvre, Brie or Mt. Tam Triple Cream. If you're planning a barbecue, try our Grilled Shrimp Skewers with Romesco sauce. For a heartier pairing, try it with Salade Niçoise or a Moroccan couscous. Whatever you serve, wherever you are, our Dry Rosé is sure to impress.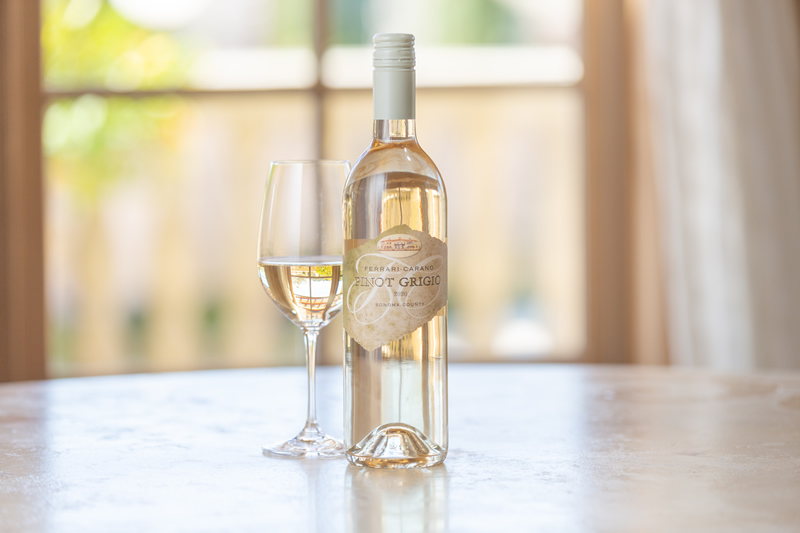 Made from 100% Pinot Grigio grapes that are hand-harvested from our vineyards right along Sonoma County's Russian River Valley, this is a crisp, refreshing and gently aromatic wine. Our Pinot Grigio offers delicious aromas and flavors of lychee, honeysuckle, white peach, mango and lime zest with a subtle minerality. Full-bodied and bright at the same time, you can expect the aromas, flavors and refreshing acidity to linger to the finish.
This wine is perfect on its own and ideal to pair with many types of cuisines. We love it with seafood, such as oysters on the half shell or pan-seared scallops, as well as with spicy entrées or dishes with lively citrus sauces. Bring it with you to enjoy on the patio at brunch or for your next seaside excursion. Just make sure you have enough to share!
Don't wait! Shop our spring releases now and be sure to take a look at our recipes for more cooking inspiration.